July - August 1999 - 300 Photos!
Don't worry! There's only 8 here, plus 5 more on the next page!
Nevertheless it may be wise to have a packed lunch and a snooze while you wait for these to load .....
1. Map - Cape York, Queensland, Australia - our Route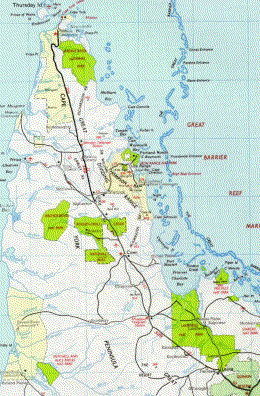 2. Down into the the feared GUNSHOT Creek

The approach into Gunshot is down a slippery, muddy decline, and there is NO turning back! Fortunately there is a reasonably solid base of logs hiding under the mud, leftovers of previous "boggings"!

3. Surfing through GUNSHOT Creek

Gunshot is quite deep but fortunately not for long, and the diesel Landcruiser and its intrepid driver, Harvey, had no problem driving through, ably assisted by his valiant passenger/navigator Judy, and the guides "in the water", Coley and Kirsty, not to mention the spectators who had driven in from the bypass road to photograph the brave getting bogged - NO WAY!! It was still a good feeling to climb out the other side though!

4. Onwards up the OTL - Overland Telegraph Track

The Overland Telegraph track meanders up to the Tip through dense vegetation such as shown. A few of the original poles remain, plus an odd grave site as a memorial to the men that struggled to build the line. The track is often washed out, corrugated, dusty, and with many "obstacles" to negotiate.

5. Eliot Falls National Park - a haven in the middle of nowhere!

This beautiful National Park offers camping and a swim - what better way to wash that bull dust away!

6. Sams Creek - deep, pot holey, and slippery

Sams is one of the most difficult to negotiate - very deep on the left,deep pot holes on the right, and a narrow slippery incline to get out! We took the spare wheel off from underneath to get through here. Note the white (hire) vehicle in the top background - he had previously come to grief in Sams, had to wait for someone to tow him out, and when we arrived he was completing the evacuation of his vehicle - EVERYTHING out to dry, and hopefully his engine would restart too - one of Cape York's casualties!


7. Crossing the Jardine

The ferry across the Jardine - $80 for a return crossing, plus camping rights. At least we avoided the crocodiles!

8. Our camp on the beach at Seisia - near Bamaga.

Seisia is close to Bamaga, and was our base for exploring the "Tip". It was great to spend 4 nights in ONE camp! This photo was taken returning on the ferry from Thursday Island.

YES, there are 5 more photos! Click to see Cape York - "The Tip" ??
or go home if you've seen enough!