Cape York Photo Albumn!!
---
More Photos for you!
Don't worry! There's only 5 here!
9. The Tip - we made it!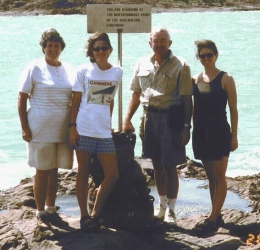 Here we are at the northernmost tip of the Australian continent. The TIP is accessed via a short rainforest boardwalk at Pajinka, then a few hundred metres across a windswept rocky outcrop to the very TIP of Australia - our goal!

10. Fishing the Jardine - a Barramundi for dinner!

Harvey went on a fishing trip up the Jardine. they caught 40+ Barra but unfortunately only one was over the legal limit - this is it! It tasted great cooked over the coals!

11. DC3 crash site - World War 2

There are many crash sites in the vicinity of the top of Cape York. This is the remains of a World War 2 DC3 which crashed near Jacky Jacky Airfield, close to Bamaga.

12. Down the Track to Lakefield National Park

Lakefield National Park does not support rain forest. It has large flood plains with sparse vegetation, and swampy areas and lagoons, where lotus lilies (and crocodiles?) are in abundance. We saw lots of Lotus lilies and NO crocs!

13. Hann Crossing on the Kennedy river - Lakefield National Park

Nicole and Kirsty debate whether our camp looks above the crocodile line! We camped at Hann crossing on the Kennedy river for 2 nights while Harvey tried (unsuccessfully!) to catch a baggable barramundi.

14. The END - back to Mackay - Champagne to celebrate!

We had 21 days from Mackay to Mackay - a great trip, and worth a champagne for Harvey, Nicole, Judy and Kirsty to celebrate our safe return!
We had no mechanical problems, and no major dents - the corrugations cost us a CB Aerial, an indicator light, and the rego plate holder, and Sams Creek dented the running board, but these were minor problems compared to the horror stories we saw and heard - vehicles flooded, tipped, crashed, etc!

Cape York is indeed a great adventure!

Yes! We'll do it again one day!
Wanna go home now?