The "Spirit of Tasmania" delivered us across a calm sea to Melbourne, from whence we headed to Geelong, where Judy and Lyn joined the band!
The grand opening of Harvey Park, by Harvey and Harvey!
The Twelve Apostles down the fantastic coastline which is Victoria's Great Ocean Road.
The QCC 4WD members - Harvey, Judy, Lyn, Harvey and Gary.
The Grotto down the Great Ocean Road.
A squid boat.
Beautiful banksias.
Down to the Narracoote caves - great stalactites and fossils.
Back to the river Murray again, near Adelaide.
Beautiful scenery in the Barossa Valley.
Judy and Harvey enjoy lunch on the Barossa winery tour.
Wine, wine and more wine.
More beautiful Barossa country.
Wine tasting venue, Chateau Tanunda.
Glenelg, seaside suburb near Adelaide.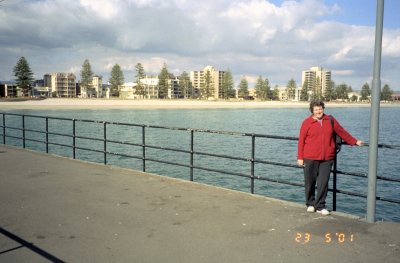 Hindmarsh memorial at Glenelg.
The Glenelg tram.
Colonel Light memorial in Adelaide - town planner for Adelaide and Christchurch, NZ.
Cabin accommodation at Adelaide.