Southwards we headed, to rendezvous with old friend Bev, at Mt Field National Park.
Next day we spent a great day up on the alpine plateau in Mt Field National Park. These pandani plants were interesting.
Bev led us higher and higher ...
Beautiful alpine tarns, and the fagus was turning colour too.
Bev and Harvey look like they still have lots of energy! Well, Bev did!!
The alpine gums had stringy bark and multi colored trunks.

Six hours later we returned to the car park, a great day!
Next day we saw a little of Hobart before heading down to the Tasman Peninsula.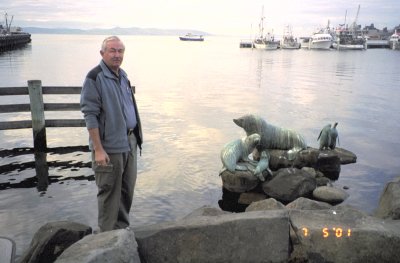 Port Arthur was very interesting, such a morbid history.
Mt Wellington above Hobart is a great place to watch the full moon rise!
And now down the Huon valley, with its spectacular autumn colors.
Typical lunch stop ... well packed vehicles!
Lake Gordon and surrounding country was so rugged.
Back to Mt Field for another night's camp.
Three tents all in a row, Lyn, then Harvey and Gary, then Harvey and Judy.
Russell Falls in Mt Field National Park.